Taking a post-graduate degree can be challenging… if you drown yourself in classes, seminars, meetings, and exams. But life doesn't need to be harsh and lonely! NAIST has its fair share of clubs which can help the students widen their social network outside of their lab and  have a well-balanced experience, rather than solely focusing on their academics.
One such club is the the NAIST Kung Fu Club, established back in October 2017, with the aim of improving the lifestyle of students in NAIST. Every week, students gather in NAIST's Kenshu Hall to exercise kung fu. The classes are given to students of NAIST for free by Takashi Hayashi (師父, master), who has had more than 9 years of experience teaching kung fu in Japan under his belt. The club offers a lot more than self-defense: it's fun, well-organized, and open to pretty much any student who wants to exercise!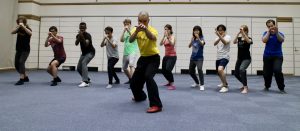 The club is not only a place where one can exercise kung fu but also an avenue to meet other students and to gain valuable experiences. Sometimes, club activities extend outside the campus grounds, such as visiting a member's place!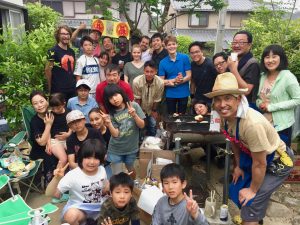 Takashi Hayashi is the shifu.  He has been teaching kung fu since 2009 in Japan around the Kansai area. In all his classes, he supports foreign students to take his classes for free and practice their Japanese in the process. He said, "I understand that life for exchange students can be tough when they stay far from their home, family and friends because I [had the] same experience living in New York in 1994 as an exchange student. When I was in New York, many volunteers helped me, and they made my life much more interesting. This made me think that someday when I go back to Japan, I would also help exchange students. And now, here I am doing what I have promised myself 20 years ago."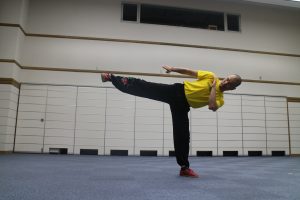 He also added, "when I was back in New York I have experienced the September 11 attack in 2001. This tragic event made me realize the value of life and how short it can get. So, ever since then, I engaged myself in voluntary activities that can help and improve the lifestyle of the society."
"It's all awfully exciting," said Jema, the student who played the crucial role of opening the club in NAIST. "It's a different world here in Japan. Life can be challenging sometimes," he explained further. "Spending two hours per week in the club really improved my life."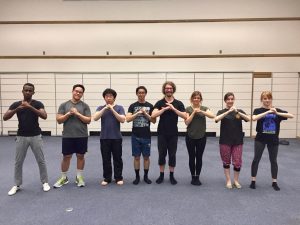 Now, the club has more than 15 members, and more students are still joining. If you would like to join and have fun with the members of the club, all you have to do is join the Facebook group, japanziranmen, and show up in one of the sessions. See you there!