This is "Outgrow Your Limits", a three-part series of short interviews with the recent Fall 2021 graduates. We asked one graduate per division about their time at NAIST, and their plans for the future. This post features Margaret Anne (Marge) Pelayo, Ph.D, from the Philippines.

After the graduation ceremony last September 24, 2021, I got a chance to talk with her about her NAIST experience and perspectives.

From which division and laboratory are you from?
I'm from the Division of Biological Sciences and I belong in the Plant Stem Cell Regulation and Floral Patterning lab headed by Prof. Toshiro Ito.
When did you first set foot on the NAIST campus?
The very first time I came to NAIST was for the pre-screening internship in bio in January 2018. I (along with the other interns) stayed in NAIST for about a week during that time. Then in October 2018, I became a D1 student in NAIST.
What attracted you to enroll in NAIST?
I had already submitted several applications for PhD positions in late 2017 and NAIST was the first one to give me an offer. I decided to accept it because of the good experience during the pre-screening internship wherein I was able to go to several labs and learn first-hand what each lab is working on. It was also great to meet current students and to be able to ask them about their experiences. Also, it was always my dream to study and get to live in Japan so it was the perfect opportunity for me.
Is there any particular moment or memory that stands out for you during your stay at this university?
I stayed as a PhD student in NAIST for 3 years and there are so many moments that will always be with me and will forever be part of who I am. So it's difficult to think of a specific moment or memory that especially stands out for me. But maybe one event that stands out (probably not just for me) that happened during my stay in NAIST and that I just have to mention is the COVID-19 pandemic. It has been quite surreal. In NAIST, in many ways, life goes on and almost feels normal but also it's undeniable that the entire world and our way of life have changed because of the pandemic. But overall, the entire experience of studying at NAIST and living in Japan has been very special and is something that I am incredibly grateful for.
What was the biggest challenge you faced during your studies and stay here?
The biggest challenge for me is definitely the final year of my studies because aside from trying to complete the requirements for the degree, I also faced personal challenges as my family lost our Dad very suddenly to COVID this year. I was unable to go home to the Philippines because of the high number of cases there during that time (it was in March this year) and also the uncertainty of being able to go back to Japan if I did go home.
How did you overcome this challenge?
I was very lucky that I had a very supportive lab and community in NAIST. I leaned on my family and friends back home and on friends and colleagues here in NAIST. Everyone was very understanding of the situation I was going through and this helped me to keep going.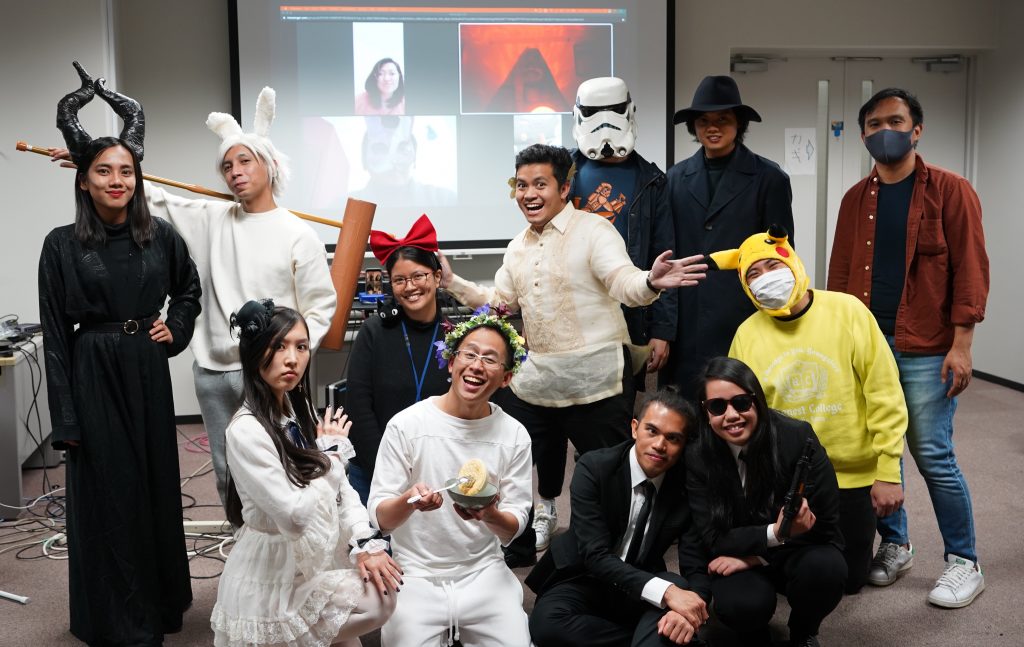 What were the factors that encouraged you to complete your degree?
I had less than a year remaining until completion and although there was an option for me to delay graduation, in the end, the best option was really to just finish and get the PhD already. This would lead to more opportunities in terms of the next steps in my career and also takes a lot of pressure off on the question of whether I will complete the degree or not.
What advice would you give to incoming freshmen and current students with regards to pursuing graduate studies in NAIST?
Treasure every moment and learn as much as you can not only about science but also about yourself (dreams, purpose, etc.). Work hard but also don't forget to enjoy the experience. There will be many moments of ups and downs but as long as you keep on going, you will find your way. Also, for international students, learn the Japanese language. No need to master it but having a grasp of the basics will certainly ease the transition of living in Japan.
Has the university helped you prepare for the next step in your life after graduation? In what way/s?
Definitely! My stay in NAIST gave me the opportunity to explore various avenues about my research and this opened up many possibilities of what I can pursue in the future.
What's your next adventure in life?
I plan to stay with my current lab in NAIST for a few more months (probably until Feb or March 2022) as a postdoc fellow then I will go home in the Philippines for a while to spend time with family. I accepted an offer for a postdoc position in Prof. Doris Wagner's lab in UPenn for September next year so hopefully, after spending some time home, I will be able to continue research in the US.